Employer Matching Gifts
Matching gifts are an easy way to double and sometimes even triple your gift. Many employers sponsor matching gift programs and will match charitable donations made by their employees.
Check with your employer's human resource team to find out if your company has a matching gift program or click on the button below to donate online through Give Direct and easily initiate a matching gift with your employer at the same time.
With over 2,000 employers participating in Give Direct's matching platform… chances are your employer does, too! Donate online now and easily initiate an employer matching gift by clicking on the button below.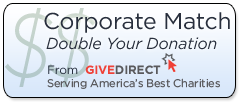 Work Place Giving Campaigns
Each year, billions of dollars are donated to charities through work place giving campaigns. Chances are that if you work at a corporation or a government agency, you have the opportunity to participate in one of these programs. These programs typically offer convenient automatic payroll deductions without losing the tax benefit of charitable giving.
California State Campaign
Starting in Fall 2019, California state employees will be able to direct donations to Schurig Center as part of the California State Employees Giving at Work Campaign.
Bay Area City & County Combined Charity Campaigns
Alameda County
Berkeley City
Contra Costa County
Contra Costa Sanitary District
East Bay MUD
Marin County
Oakland City
Oakland Port
Richmond City
City of San Mateo
Santa Clara County
City of San Jose
Sonoma County
United Way
Schurig Center's United Way number is 781732.