How Art Heals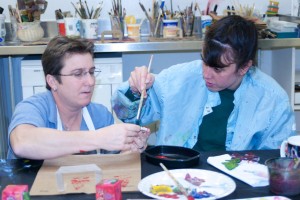 When a person suffers a loss or a disability, it sometimes seems as though their whole world has fallen to pieces. Once-normal activities—such as walking, talking, and eating—may have to be relearned. There is a heightened feeling of failure and a loss of self-worth. Schurig Center's Arts Therapy Program helps survivors put the pieces of their lives back together.
Feelings of loss can be replaced with new areas of growth.
The creative process of art enables this healing to start.
While modern medicine rehabilitates the body on a functional level, expressive arts—including visual arts, creative writing, music, and drama—are rehabilitation for the soul. And the brain. Since the art process engages the entire brain, expressive arts therapy assists in building new neural connections through a process called neuroplasticity. The benefits of art therapy has been researched and this modality is often included as a therapeutic tool in rehabilitative programs across the country.
Art also strengthens self-esteem, provides the opportunity for positive feedback, and allows a person to re-experience themselves as a unique individual. It enables survivors to express their feelings about the serious emotional and physical trauma they have experienced.
Art, Music, and Poetry Help Survivors of Brain Injury Do the Following:
Explore abilities through non-verbal and verbal expression.
Learn coping strategies for potential challenges.
Reconcile emotional conflicts.
Foster self-awareness, personal growth, and wellness.
Stimulate mental and physical activity.
Express anger and relieve depression.
Grieve, cope, reminisce, and adapt.
Expressive Art Therapy Class
Connecting Our Inner and Outer Worlds
Expressive Art Therapy is a multi-modal approach utilizing different art forms to enhance cognitive, emotional, social, and physical abilities. A class combines one or more of the following: visual arts, movement and dance, creative writing, improvisation, drama, and music. Each class begins with a calming, sensory-awareness exercise followed by a creative activity. At the end of class, participants share their experiences with one another.
Through art, individuals find the ability to express their feelings and thoughts and to connect with their senses. It also helps individuals to process emotions and social interactions brought about by the impact of their injury on their daily life and the change from who they were to who they are now. Cognitive skills are the basic mental abilities that help us think, study, and learn (auditory and visual processing, memory, logic and reasoning, and increasing attention). Art Therapy physically helps individuals redevelop their fine motor skills while doing activities, such as holding a pencil or paint brush.
Studio Art Class
Re-Engaging with Our Community Through Art
In our studio art classes, participants are introduced to a variety of painting tools and techniques as well as the fundamentals of art, such as color and composition. This class enables each artist to develop his/her own personal artistic style and express themselves through art while also relearning fine motor skills.
Art offers our participants a creative path to re-connect with our community and a sense of productivity. Throughout the year, the work of Schurig Center artists is featured at art shows at our center and in galleries throughout the Bay Area. These shows help educate the community about brain injuries.