The people our Center serves are "us" – professionals, parents, sons, daughters, friends and neighbors… our community. Although the circumstances of their injuries may differ, they all share a common experience. They have each survived an injury that has dramatically changed their lives and the lives of their loved ones.
Almost all survivors remember what they were doing and the hopes and dreams they had before their injuries. They must grieve the loss of their former lives and learn to re-engage in life in new ways. We help survivors accept that their life has changed and to rethink their dreams.
We are pleased to share the following stories of just a few survivors who have passed through our doors while on their journey to recovery. These individuals and their families have been able to access our life-changing services thanks to the support of community members, like you.
---
Scott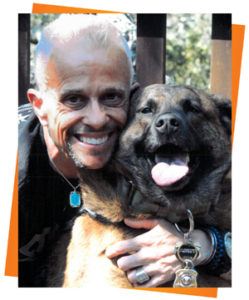 "Schurig Center kept me alive and kept me going. It made me functional. If I weren't coming here, I'd be less confident, and my abilities would be worse."
Scott, a veteran and former police officer, has been able to access our services, which have helped him rebuild his abilities and re-engage in life with new meaning after multiple brain injuries.
At age eight, Scott suffered his first brain injury when the car he was riding in was struck by a drunk driver. Both of his parents and the other passengers were killed. Scott's injuries were also so severe that he spent eleven months in the hospital.
Unbelievably, this was just the first of Scott's brain injuries.
Scott sustained additional brain injuries throughout his life, first while serving his community as a police officer and in the Army and later while working in the movie industry.
Read more about Scott's journey to recovery.
---
Jeff & Mary Ellen
"Life has gotten 300% better since we found Schurig Center."
Meet Jeff and Mary Ellen, two individuals whose lives have been greatly improved by accessing Schurig Center's services.
Jeff's stroke, sustained while on a weekend hike, left him unable to walk, talk, read, or write. He is walking again, but remains without speech and copes with cognitive challenges. Jeff continues to strive each day to improve his abilities and has discovered a new skill that he excels at…drawing! Jeff can be found frequently in our Therapeutic Art Studio creating highly realistic pencil drawings of animals.
---
Giselle & Giselle Elizabeth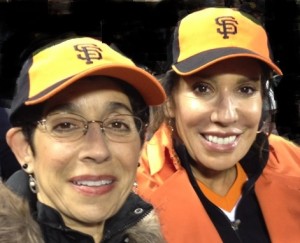 "Schurig Center was the only place in the Bay Area that could tailor programs and services to fit my mom's skill level."
At age 56, Giselle was enjoying the life she had worked so hard to create. She had been a nurse at San Francisco General Hospital for 30 years and had no plans to retire. Then, in 2011, Giselle's plans were interrupted when she experienced a stroke.
A stroke happens every 40 seconds in the U.S. and is the leading cause of long-term disability.
Grief, sadness, and an overwhelming sense of loss after a stroke are typical feelings for both the survivor and the family members. "It seemed as if the rug had been pulled out from under us," reflected Giselle Elizabeth, Giselle's daughter.
In her quest for help, Giselle Elizabeth found Schurig Center. Here her mother participates in several programs and Giselle Elizabeth attends supportive and educational services to address the many concerns faced by caregivers.
Read more about Giselle's journey to recovery here.
---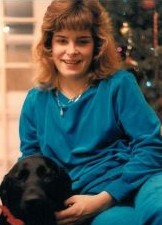 Pam
In 2008, at age 44, Pam was living in West Virginia working full-time and raising her 12-year-old son as a single mother. One day, she found herself feeling anxious, confused, and disoriented. She called her mother, Barbara, for help.
Frightened and alarmed, Barbara told Pam to go the ER immediately, and she herself boarded a plane from California to be by Pam's side.
Today, Pam is living with a brain injury caused by a virus. Even a mild viral infection can lead to a more serious brain injury such as a stroke and can cause severe brain damage. In Pam's case, it resulted in an autoimmune disorder that attacks the nervous system and causes swelling in the brain. Brain injuries like Pam's can happen to anyone at any time.
After two months in the hospital, Pam was discharged but continued to suffer from poor vision, lack of balance, and impaired cognitive functioning. No longer able to live on her own, Pam moved to California to live with her mother. Their lives were changed forever.
Once her limited outpatient therapy was complete, Pam's recovery began to plateau. Feeling alone and desperate, and wanting more for her daughter, Barbara reached out to Schurig Center.
Pam has benefited from numerous services including yoga, occupational therapy, life skills classes, art therapy, and support groups. Barbara receives support, education, and respite that provide critical assistance for her to cope with the challenges of caring for herself and her daughter. Not only have their lives greatly improved, but Pam's abilities have as well.
---
Stephanie
At age 30, Stephanie is relearning much of what came naturally before she contracted viral encephalitis and spent three months in a coma. Her smile is infectious and her determination is inspirational, as she takes two buses each day to get from her family's home in Santa Rosa to Schurig Center.
"It's great to be with people who understand what I'm going through," says Stephanie about the staff and fellow survivors she works with each day. "It's comforting to spend time with people who have also lost a lot."
Prior to her illness, Stephanie has graduated from college and was a successful sales representative living on her own. Now she lives with her father, stepmother, brother, and sister. A constant threat of seizures makes it unsafe for Stephanie to live alone.
"All of my old friends are getting married, having children, and buying homes. While it's hard to be starting over again at my age, I'm grateful to be learning new skills and forming great friendships. I'm a pretty happy person and lucky to have so much support."
---
Peter
After his motorcycle accident, Peter remained unconscious and hospitalized for two-and-a-half months. "I was zipping along, without a helmet, and the truck driver never saw me," says Peter, without a trace of resentment.
Though Peter struggles with short-term memory loss, he's discovering a range of new interests and skills at Schurig Center.
"I love being here because so many doors are open to me. I'm writing poetry, learning to garden, and relearning everyday life skills such as cooking. In addition, I've met some wonderful people."
"We have discussions about what's hard for us, like knowing when to tell people that we've had a brain injury. Sometimes it's hard to find the right words, and sometimes it's hard to know when to explain what I've been through."
Peter says that he never gets bored and is eternally grateful for all the help he's receiving. "Once I'm able to improve my vocabulary and response time, I'd like to speak at high schools about my experience and the importance of wearing a helmet."
---
Gladiola
Five years ago, at the age of 18, Gladiola developed meningitis and, as a result, suffered five separate strokes. Despite this, she still holds on to her dream of becoming a dental hygienist and she's planning to get started on the prerequisite classes.
"When I first came out of my coma everything was brand new for me."
Everything changed for Gladiola when a neuropsychologist recommended Schurig Center. She spends two days a week at Schurig Center participating in the Therapeutic Program where she creates art and most importantly, interacts with people who truly care and understand.
At home, Gladiola enjoys spending time with her niece and playing with her two Chihuahua puppies.
---
Brain injury survivors in the Bay Area need our services.
We need you!
We are all in this community together and we need one another.
Help us strengthen and grow our life-changing services.
Here's how your support helps…
Over 70% of the people we serve live on a low income.
We turn no one away based on inability to pay.
Our center does not receive health insurance or federal money.
We must fundraise over 80% of our annual budget.
Donations enable our center to provide services on a sliding scale or free of charge.