An inspiring year of healing powered by you!
Hundreds of lives were improved at Schurig Center during the 2018/2019 fiscal year thanks to the caring of people, like you. It's our great pleasure to share with you the impact of your generosity. On behalf of the survivors and families we serve, thank you for your belief in our mission.
[Download the 2019 Annual Report]
[View 2018/2019 Supporters & Partners]
Clients Served

280 … Brain Injury Survivors
156 … Caregivers & Family Members
65% … New Clients
30% … Attend More than One Service

Age

37% … Seniors 63+
53% … 31 to 62
10% … 19 to 30

Type of Injury

37% … Traumatic Brain Injury (TBI)
33% … Concussion (mTBI)
23% … Stroke
7% … Other (aneurysm, virus, tumor)

Residency

60% … Marin County
14% … East Bay
15% … San Francisco & Other
11% … Sonoma & Napa Counties

2,246 Professionals & Community Members Received Education

Through these services: consultation with professionals and agencies, community presentations, brain injury information handbook, online resource directory, and concussion education and website.

Because our programs are non-medical by design, we do not receive insurance fees nor do we receive federal money. Many people mistakenly believe that health insurance or federal sources provide funding for organizations, such as Schurig Center. Survivors and families come to our center seeking continued rehabilitation and support after their health insurance coverage for treatment has ended.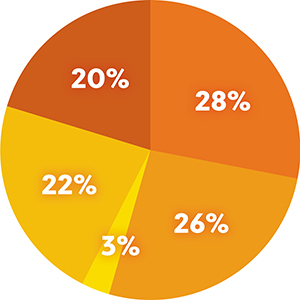 $742,872 … Total Revenue
$208,000 (28%) … Foundations
$193,409 (26%) … Events
$163,207 (22%) … Individual & Business Giving
$151,609 (20%) … Fee for Services
$ 25,000 ( 3%) … Government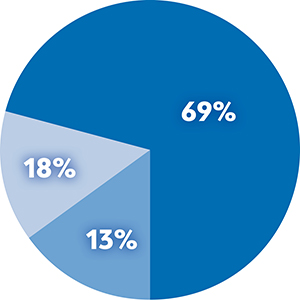 $693,642 … Total Expenses
$478,630 (69%) … Programs & Services
$ 91,874 (13%) … Building, Insurance & Admin
$123,138 (18%) … Fundraising, Events & Marketing
Building Depreciation (not included in expenses) = $48,739
Total Assets = $800,175
---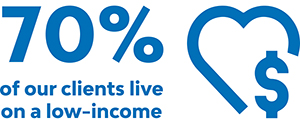 This year, 305 people were able to access life-enhancing services thanks to scholarships provided by you!
We believe everyone should have access to care for as long as they need it – regardless of ability to pay. A brain injury can dramatically and suddenly affect a person's ability to return to work at the same level they were before their injury. To meet this need, we offer scholarships provided by community support to those living on a low income.
---
2019 Highlights
An Array of 15 Innovative Services that Improve Lives & Abilities
With you by their side, clients in our on-site rehabilitative and supportive services are showing that improvements can happen months, and even years, after injury. Over 95% of our clients demonstrated improvement in their abilities and accomplishment of their goals. They also rated our programs 4.5 out of 5 'Highly Satisfied.'
Respected, High-Quality Programs
Over 50% of our referrals come from medical professionals and agencies located all over the Bay Area.
Advocacy Beyond Rehab
When things are hard to navigate, you help connect people to the guidance they need to live their best life. Over 320 survivors and family members benefited from Resource and Consultation Services. It's the only service of its kind in our area. Thanks to you, we are able to provide it to the community free of charge.
Almost 7,000 Hours of Respite for Caregivers
Every time you give to Schurig Center, you help families cope with the pressures of care giving. This year, a survivor's Art Therapy class was added and offered concurrently with the monthly Caregiver Support Group to make it easier for family members to attend the group, feel less alone, and be with others who understand.
A New Partnership
This year, Schurig Center received vendorization with Golden Gate Regional Center (GGRC), ensuring even more adults with brain injury-related disabilities have access to supportive services.


10,000 Students in Marin Have Increased Access to a Higher Standard of Care After Concussion
Schurig Center is a member of ConcussionSmart Marin, a coalition of Marin agencies providing standardized protocols and education to help Marin's high school staff, parents, and doctors provide the best possible care for students/athletes who have a Concussion. The protocol is in its third year of implementation. For the first time in Marin, statistics about youth Concussion incidence are being tracked. This data will improve understanding of the trends of this common injury. ConcussionSmartMarin.org
---
Bay Area survivors need our services…and we need YOU!
As the number of brain injury survivors increases, Schurig Center continues to meet their needs by strengthening and expanding our services thanks to the generosity of community members like you.
Donations can be made securely online any time or by sending a check directly to Schurig Center. There are also many other meaningful ways you can help.