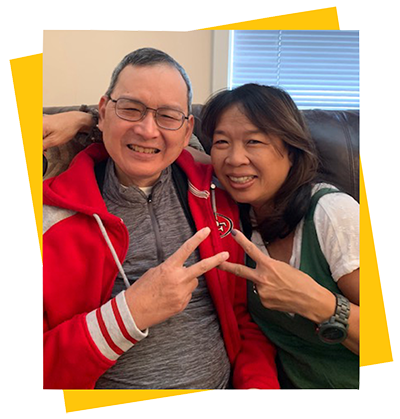 Just before Thanksgiving 2020, Marc learned he had a meningioma, a tumor in the membranes that surround the brain and spinal cord. He underwent a successful surgery. Then, during post-surgery care, Marc experienced a hemorrhage that caused a severe brain injury. After four months in the hospital, he was finally able to go home. But, his life and the life of his family had been forever changed.
Before the injury, Marc worked full-time and was an outgoing, social butterfly who loved connecting with people. Volunteerism was his life-long passion and he had contributed countless volunteer hours to help make his community better.
After the injury, Marc found himself needing help.
The injury changed Marc's abilities, impacting his memory, speech, and other cognitive changes, which made it difficult for him to manage daily life on his own.
Imagine feeling lost and alone as you are sent home from the hospital. Sadly, that's how Marc and his family felt. They had no idea how to adapt to life after brain injury. Fortunately, they were referred to Schurig Center.
With you and the rest of Schurig Center's community of friends by their side, Marc and his family are no longer alone. Marc's sister Sharon shared a bit about how Schurig Center has helped her family:
Schurig Center helped us navigate unchartered waters.
Retraining the brain is different from retraining a muscle. It can be very unpredictable and not linear. The team helped connect us to support and resources that have made a big difference in Marc's life and our life as well. We are very grateful.
Today, Marc attends weekly classes at Schurig Center that connect him with others and help to improve his cognitive abilities. In art therapy, he is working all areas of his brain and processing his emotions related to the injury. Speech therapy is helping him communicate better with others, including his sister and caregiver Sharon. And, even better news! Marc is able to continue his passion for helping others while he helps himself:
At Schurig Center, I am able to help myself and also help others as we rebuild our lives together. I see improvement in myself and others. It helps me a lot when I see the smiles on others' faces.
Brain injury can dramatically change a person's life. It can feel like pressing the 'pause' button on life. The simple things we often take for granted – independence, connection, feeling of value, being heard – are the very things hundreds of people this year would be forced to live without if not for the caring of people like you.
There are many more survivors, like Marc, who need your help today to press 'play' again.
New calls for help come to our center every day. With your support, we can help more survivors and caregivers create a better future and feel less alone through rehabilitation, brain injury education, and connection.
If you are in a position to help, please donate today and give as generously as you can.
Your donation today will help provide comfort and healing for hundreds of people this year. Please know whatever you can give will go a long way and it will be very special because you care; because you gave from the heart. Thank you!