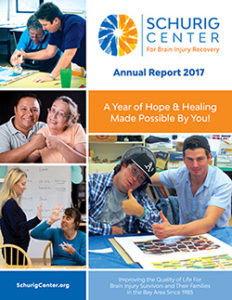 Schurig Center is pleased to share this year's Annual Report highlighting the many ways your support helped to change lives during our 2016-2017 fiscal year. We are deeply grateful to the countless donors and volunteers who continue to help us strengthen and grow our programs. Thank you!
Previous Annual Reports:
2016, 2015, 2014
Your Commitment to Caring Touched Over 3,000 Lives This Year
Operating with an annual budget of approximately $700,000, Schurig Center impacts over 3,000 survivors, caregivers, professionals, and community members a year through on-site therapeutic services and classes, support groups, resource referral assistance, online resource directory, community concussion education program and ConcussionMarin.org, Brain Injury Information Handbook, and educational presentations for professionals and the community at large.
---
Our Sources of Funding
Community support plays a vital role in our ability to provide services. We also acquire in-kind donations for materials needed in our services and fundraising events. We invest our fiscal resources to hire highly qualified staff to administer specialized services and to cover the cost of operating our physical center.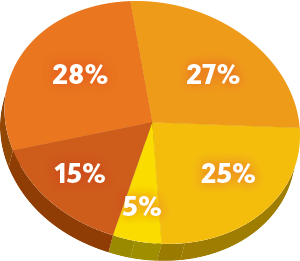 28% – Foundations
27% – Individual & Business Giving
25% – Events
15% – Fee for Services
5% – Government (County & Federal)
---
Did You Know…
Schurig Center must fundraise 85% of our annual budget
We do not receive health insurance fees and only very minimal federal money. Many people mistakenly believe that health insurance or federal sources provide funding for organizations such as Schurig Center. Due to the non-medical nature of our post-acute rehabilitative services, we do not qualify for either source of funding. Survivors and families come to our center seeking continued rehabilitation and support after their health insurance coverage for treatment has ended.
70% of our clients live on a low income.
We turn no one away who needs our services!
We believe that everyone should have access to our services regardless of their ability to pay. A brain injury can dramatically and suddenly affect a person's ability to return to work at the same level they were before their injury. We offer all of our services on a sliding scale basis or free. Community support enables us to carry forth this mission.
Neuroscience research shows the importance of continued rehabilitation is clearer than ever before!
Brain injury survivors are capable of improvement in quality of life for many years after medical treatment has ended thanks to neuroplasticity, the brain's amazing capacity to heal and change in physical structure and functional organization. For this to take place, the brain needs to be actively engaged and challenged. The process of rehabilitation can take months or even years to reach its potential. On the continuum of care, this is where our Center plays a vital role by providing long-term, affordable rehabilitative services after health insurance coverage has ended.
---
Bay Area survivors need our services…and we need YOU!
As the number of brain injury survivors in the Bay Area increases, Schurig Center continues to meet their needs by strengthening and expanding our services thanks to the generosity of community members like you.
Help make our work possible today!
Donations can be made securely online any time or by sending a check directly to Schurig Center. There are also many other meaningful ways you can help.