According to the Brain Aneurysm Foundation, "brain aneurysm survivors are a small population of people, but they are growing larger as medical technology continues to grow and early detection and treatment of brain aneurysms becomes more prevalent. "
1 in 50 people has an unruptured brain aneurysm
Every 18 minutes a brain aneurysm ruptures
4 out of 7 people who recover from a ruptured brain aneurysm will have disabilities
What is a brain aneurysm?
A brain aneurysm is a weak bulging spot on the wall of a brain artery very much like a thin balloon or weak spot on an inner tube. Over time, the blood flow within the artery pounds against the thinned portion of the wall and aneurysms form silently from wear and tear on the arteries. As the artery wall becomes gradually thinner from the dilation, the blood flow causes the weakened wall to swell outward. This pressure may cause the aneurysm to rupture and allow blood to escape into the space around the brain. A ruptured brain aneurysm commonly requires advanced surgical treatment.
Warning Signs & Symptoms
Unruptured brain aneurysms are typically small in size and asymptomatic. However, large unruptured aneurysms may be large enough to press on brain tissue and/or nerves, giving these potential warning signs:
Localized headache
Pain above and behind eye
Dilated pupils
Drooping eyelid
Blurred or double vision
Weakness, numbness or paralysis of one side of the face
Difficulty speaking
A ruptured brain aneurysm causes sudden and severe symptoms. In many cases, it is fatal or results in neurological damage. Seek medical attention immediately if you are experiencing some or all of these symptoms:
Sudden severe headache, "the worst headache of your life"
Loss of consciousness
Nausea/vomiting
Stiff neck
Sudden blurred or double vision
Sudden pain above/behind the eye or difficulty seeing
Sudden change in mental status/awareness
Sudden trouble walking or dizziness
Sudden weakness and numbness
Sensitivity to light (photophobia)
Seizure
Drooping eyelid
Risk Factors
Risk factors that doctors and researchers believe contribute to the formation of brain aneurysms:
Smoking
High blood pressure or hypertension
Family history
Age over 40
Women have an increased risk
Drug use (particularly cocaine)
Heavy alcohol consumption
Traumatic brain injury
(Information excerpted from the Brain Aneurysm Foundation and Mayo Clinic)
Maria's Story of Recovery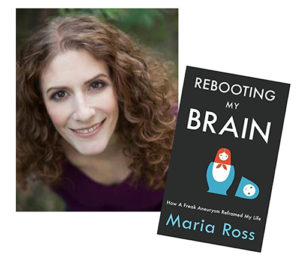 In the book "Rebooting My Brain: How a Freak Aneurysm Reframed My Life," Maria Ross shares how the relentless pace of her life came to a screeching halt when an undetected brain aneurysm ruptured and nearly killed her. With humor and heart, Maria reveals the keys to her extraordinary comeback and how her perspective is forever changed, mostly for the better. Funny, touching and real, this book not only shares an inspirational story of transformation but enlightens readers about the surprising effects of brain injury. Pick your copy up today on Amazon here.
---
You are not alone. We are here to help!
If your life has been changed by a brain aneurysm, there is a place to go for continued rehabilitation, education, support, and community.
At Schurig Center for Brain Injury Recovery, we make the recovery process after an aneurysm more holistic and hopeful for survivors and their families. We pick up where the healthcare system leaves off, helping survivors continue their journey to recovery after they've completed initial rehabilitation. Schurig Center gives survivors and their loved ones a place to gather, to learn, to rehabilitate, and to discuss their challenges and share their triumphs. Learn more about our services.