Give a gift this holiday season that helps ensure no one is alone after a brain injury, concussion, or stroke.
It's estimated 1 in 3 people will experience an acquired brain injury in their lifetime. Despite this prevalence, there are few services available to help people adjust to life after injury. This is where YOU can help.
When you give to Schurig Center, you help fill gaps in care, inspire renewed hope and open the door to new possibilities for survivors and their families. You let survivors know they are valuable members of our community who deserve access to the support they need to not only survive, but thrive after brain injury.
If you are in a position to help, please donate by December 31, 2022 and give as generously as you can. Your donation will help provide rehabilitation, support, and connection for over 400 people in the new year. Thank you!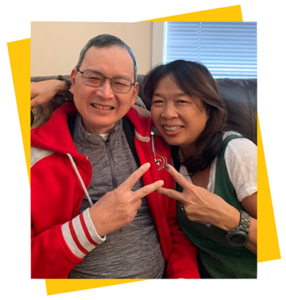 The People Schurig Center Serves are All of "Us"
Brain injury is an equal opportunity disability that does not discriminate. It can happen to anyone, to professionals, parents, daughters, sons, friends, and neighbors… our community. Although the circumstances of their injuries may differ, they all share a common experience. They have each survived an injury that has dramatically changed their lives and the lives of their loved ones.
Meet Marc & Sharon
"Retraining the brain is different from retraining a muscle. It can be very unpredictable and not linear. The team helped connect us to support and resources that have made a big difference in Marc's life and our life as well. We are very grateful." – Sharon, family caregiver
After a lifetime of dedicated volunteer service to his community, Marc found himself needing some help after his life was changed by a hemorrhage during post-surgery care. With you and the rest of Schurig Center's community of friends by their side, Marc and his family are not alone as they adjust to the life changes that come after brain injury. [Read more about Marc's journey here.]
Ways to Give

Make a Donation
No matter how large or small, every gift is meaningful! Donate online here. Give by phone at (415) 461-6771 or mail a check payable to "Schurig Center" to 1132 Magnolia Avenue, Larkspur, CA 94939.

Become a Monthly Donor
Deepen your commitment to caring and provide the sustained resources we need to strengthen and grow our services. [Learn more]

Give From Your Donor-Advised Fund (DAF)
An increasingly popular charitable vehicle, DAFs are an excellent way to simplify your charitable giving and facilitate your philanthropic goals. Schurig Center is pleased to accept grants from DAFs. [Learn more]
Give a Tax-Free Gift from Your IRA
Are you 70½ years of age and older and have an IRA? If so, we hope you'll consider making a qualified charitable distribution (QCD) to Schurig Center from your IRA account. [Learn more]

Give Stocks
Gifts of stock can be made easily as an electronic transfer (DTC) from your brokerage account to Schurig Center's account. [Learn more]

Give at Work
Employer matching and giving programs are a great way to increase your impact. California state and Bay Area city/county employees can give as part of the Combined Charities Campaigns. [Learn more]

Make a Legacy Gift
Make a lasting impact for survivors and their families for years to come when you include a bequest to Schurig Center. [Learn more]

Give in Honor or Memory of Someone
A tribute gift is a meaningful way to recognize the people and life events that are important to you while helping others. [Learn more]

Fundraise for Recovery
Bring together your friends, family, neighbors and co-workers to make a difference with an online fundraiser or community event. [Learn more]

Give While You Shop
Change lives every time you shop at local and online grocery and retail stores, including Amazon, Sports Basement, and Mill Valley Market. [Learn more]
Questions?
Please contact Executive Director Patricia Gill at (415) 461-6771 x101 or email or Director of Development Angela Abbey at (415) 461-6771 x103 or email.