Leading up to Veterans Day, we honored our friends here at the Schurig Center who have proudly served our country with a special Veterans Day celebration.
The Center looked festive with lots of red, white and blue decorations and of course, "Old Glory." Therapeutic Program participants had the opportunity to help create artwork and design the layout for our special "Thank You for Your Service" display table, which was used to showcase TONS of great photos, medals and memorabilia from our three veterans who proudly served in the Army and Navy respectively.
Everyone was treated to a special afternoon of patriotic music, memorable stories, poetry, and light refreshments as we showed our appreciation for our very own veterans. The highlight of the event was to hear our friends share their unique and moving stories about their own experiences in the military. All three of our "Guests of Honor," Tod Fleming, John Nelson and Scott Parkhurst, received a special Certificate of Appreciation for their service to our country.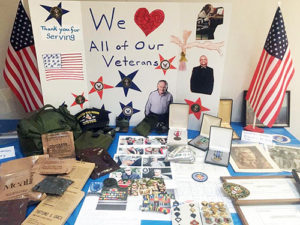 Army veteran Scott summed up the day's festivities with a handwritten note, "I just wanted to thank you from the bottom of my heart for yesterdays' Veterans Day Appreciation. It truly meant a lot to me and I know it meant a lot to Tod and John too!"