June is National Aphasia Awareness Month
According to the National Aphasia Association, aphasia is an acquired communication disorder that impairs a person's ability to process language, but does not affect intelligence. Aphasia impairs the ability to speak and understand others, and most people with aphasia experience difficulty reading and writing.
Aphasia affects about two million Americans. The most common cause of aphasia is stroke. About 25-40% of stroke survivors acquire aphasia. However, any type of head injury or other neurological causes can cause aphasia.
There are many types of aphasia. Some people have difficulty speaking while others may struggle to follow a conversation. In some people, aphasia is fairly mild and you might not notice it right away. In other cases, it can be very severe, affecting speaking, writing, reading, and listening. While specific symptoms can vary greatly, what all people with aphasia have in common are difficulties in communicating.
Communicating with People Affected by Aphasia
Below are a few helpful tips on how to communicate with a person who has aphasia. To download a free copy of the "Communicating Through the Barriers" poster below, visit the National Aphasia Associations website here.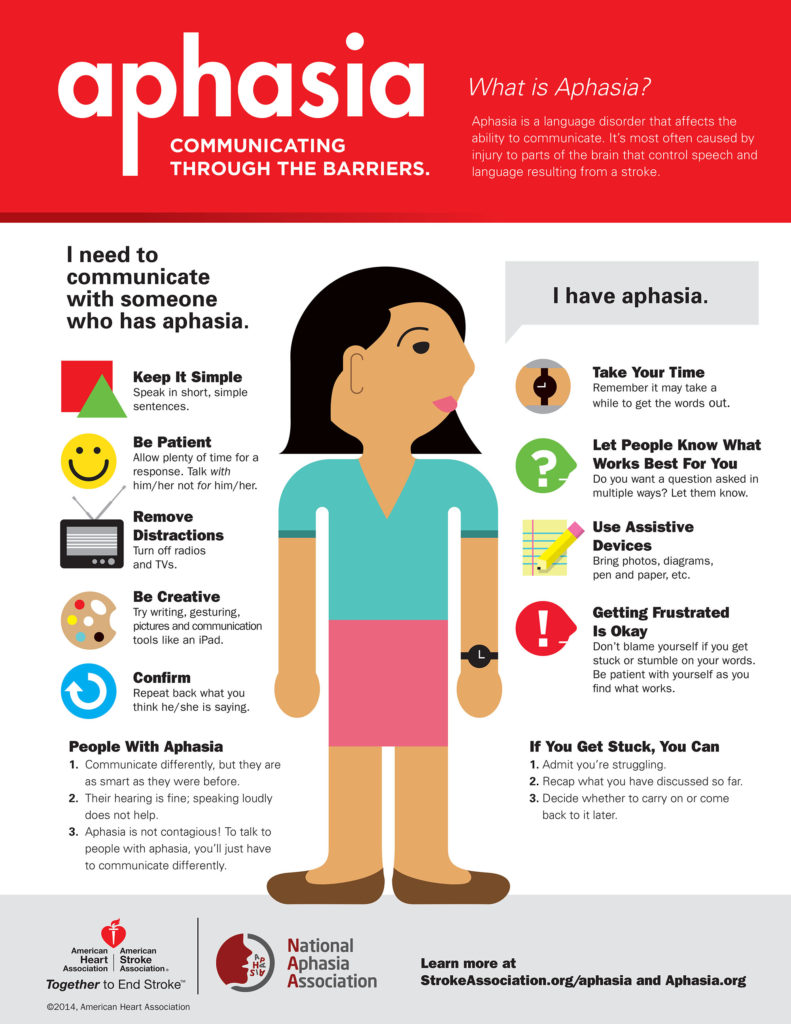 Improve Your Communications Skills at Schurig Center
If you or a loved one is experiencing aphasia after a stroke or other neurological impairment, there is a place to go to improve your communication skills! We are pleased to offer a 10-week Aphasia Communication Group. Taught by a license speech therapist, this class provides the opportunity to practice and develop communication and cognitive skills in a supportive environment. Topics covered include: engaging in conversation, body language, communication strategies, listening skills, connections with friends, family, and your community. To get more info about this group, please visit our classes page here.