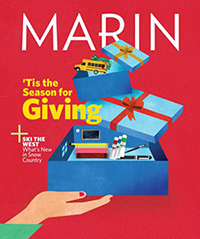 Schurig Center is thrilled to share that our organization was featured in Marin Magazine's December 2018 issue.
Learn more about Schurig Center's mission and how your contribution can help Marin's brain injury, concussion, and stroke survivors thrive in the "Marin Gives Back" article (page 73) and our full-page featured ad on page 80.
View the digital version of the magazine here.
On behalf of everyone at Schurig Center, thank you Marin Magazine. We are grateful!