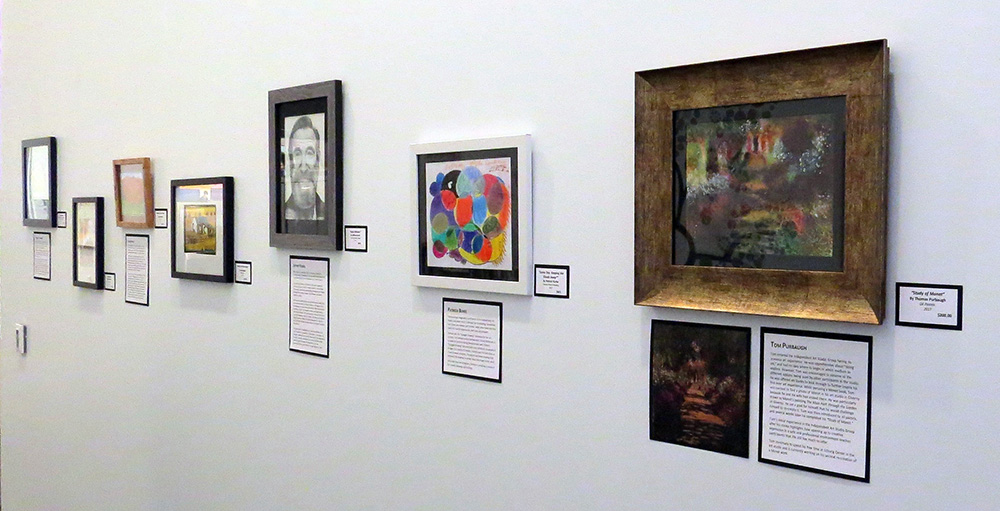 The artists in Schurig Center's Therapeutic Art Studio would like to thank the many guests who stopped by our "Pathways to Recovery" Art Show reception on April 5 at UCSF Memory and Aging Center's Gallery 190 in San Francisco. We are especially touched by how well-attended the reception was despite the best efforts of the city's traffic congestion to slow people from getting to the event.
"Pathways to Recovery" featured 40 pieces of original artwork created by artists in Schurig Center's Art Studio using a variety of mediums, from pen and ink drawings to handwoven pieces created using torn watercolor paintings.
Community art shows, like "Pathways to Recovery," play an important role in the healing process after a brain injury by providing the opportunity to re-engage with our community for those who might otherwise be isolated due to their disability. These shows also build awareness and provide education in the community about brain injury – a highly prevalent disability that many people are not aware of.

Did you know?
Creating art holds power in its integrative and reparative healing properties for the soul, the body, and the brain!
In Schurig Center's Art Studio Art and Therapeutic Art classes, participants benefit from learning to use a variety of painting tools and techniques as well as the fundamentals of art and design, such as color and composition. These classes enable each artist to develop his or her own personal artistic style and express themselves through art while relearning fine motor skills. The art process also assists in the creation of new neural pathways in the brain, often referred to as "neuroplasticity."
Thank You!
Schurig Center's artists are deeply grateful for the Bay Area galleries and venues, like Gallery 190, who generously offer to host our art shows throughout the year.
Very special thanks to Leslie Goss and the staff at UCSF Memory and Aging Center for opening their gallery space and community to Schurig Center's artists. You help those who are frequently "unseen" be "seen" and appreciated for their talents. THANK YOU!

---
Will you help us provide healing through art?
Without community support, Schurig Center would not be able to provide hope and healing through our Therapeutic Art Program. Donations from individuals like you make our work possible. Please join us in providing this valuable community resource that is found nowhere else in our area. Donate today!