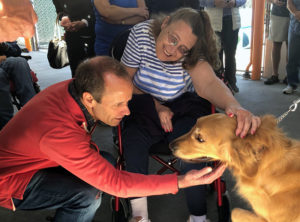 Schurig Center's latest Community Integration group outing happened in May with a visit to Guide Dogs for the Blind, a leading guide dog school serving people who are blind or visually impaired.
The Guide Dogs team warmly welcomed a group of Schurig Center participants, volunteers, and staff for a walking tour of the San Rafael campus to learn all about their guide dog programs, from birth and puppy socialization to training and pairing with prospective clients.
After the tour, the Schurig group wrapped up the day with lunch and an extra special art project to reflect on what they had learned during the visit – each person created and shared an original art piece depicting their very own dream guide dog.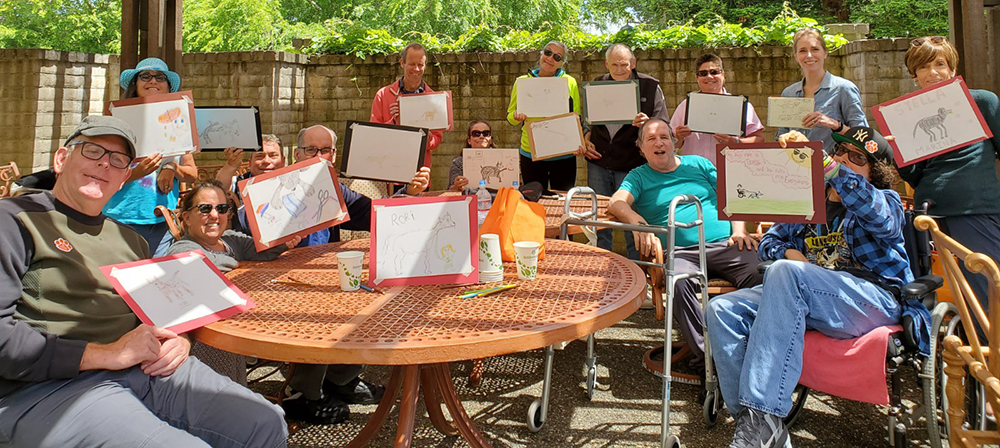 Community Integration… Why It Matters
Community integration outings like this one are important to the recovery process of our participants. Isolation is often one of the greatest challenges facing people living with the effects of a brain injury. These group outings help keep people active and connected by providing an opportunity for participants to:
Re-engage with the community
Build confidence through personal interactions with new people
Practice communication and social skills
Support one another through cooperation and peer-to-peer support
Increase their sense of independence
Participate and not just be an observer
Access experiences and activities that may not otherwise be available to them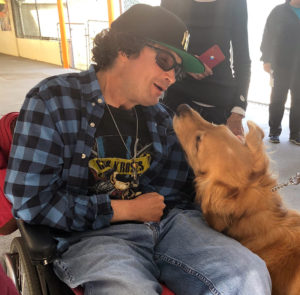 The outings are also a wonderful way for members of the community-at-large to learn more about brain injury as well as to meet and get to know people living with the effects of a brain injury as unique, valuable individuals, not just as their disability.
Our community is truly stronger when everyone is included!
Thank you!
Big thanks to Keith Rosenthal and the rest of the awesome team at Guide Dogs for their time and enthusiasm to make this memorable "warm and fuzzy" day possible for Schurig's group.
No one should have to go through brain injury alone.
Your generosity helps ensure no one does.
Schurig Center's innovative programs are powered by the giving of foundations and individual donors, like you. We hope you'll join us in making critically-needed services, like the Community Integration Program, possible by donating today. Your gift ensures everyone in our community has the opportunity to live happily, meaningfully, and fully. Thank you!