Parsley, Sage, Rosemary and Thyme
…and a dash of YOU!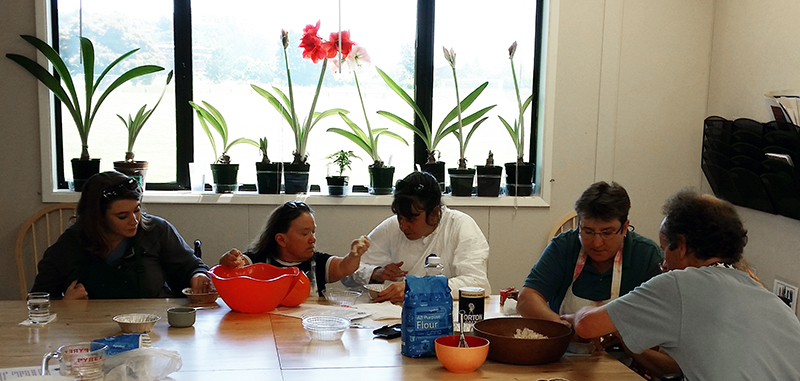 Guy Fieri, local chef and restaurateur, believes "Food is about the people."
Here at Schurig Center, we couldn't agree more!
Group Cooking is a popular class offered monthly at Schurig Center. The class brings together staff, volunteers, and clients for a morning of good food, good fun, and great people. Many survivors are working towards the goal of living more independently after their brain injury. Relearning and improving the skills needed for daily living, such as cooking, are essential to achieving this goal.
Chefs in this class have the chance to practice basic adaptive kitchen and food preparation, planning, focus and concentration, following multi-stepped tasks, fine motor skills, and working as a team. It's a safe place to relearn how to mix, chop, measure, pour, and bake. A place where spills or adding too much flour aren't "mistakes" they are just part of the learning process.
Every chef's improvement in ability, no matter how small, is celebrated as a group. Every completed recipe is so much more than just a tasty meal to these chefs. It's one more step in their journey to recovery and re-engaging in life as they are now.
The chefs recently tackled a recipe for Scarborough Fair Quiche. The final product turned out delicious and even received rave reviews from the toughest food critics of all…their families! Give the recipe (below) a try for your next Sunday brunch.
Michelle, who survived a car accident and lives with the effects of traumatic brain injury, commented in cooking class this week: "This is so great, I love this! I can't wait to take it home and share it with my family."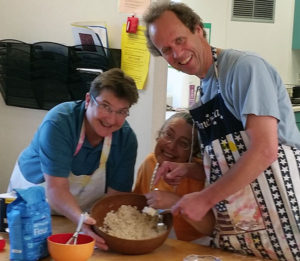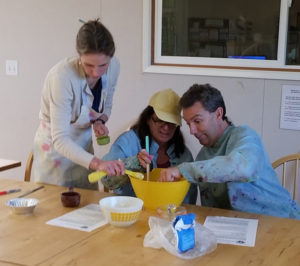 You Make This Healing Possible
Individual donors make life-changing services, like Group Cooking, possible. In fact, 85% of Schurig Center's revenue comes from foundations and donors. So, without YOU, this class truly wouldn't exist. Only you can help survivors in Marin and the Bay Area rebuild their lives after a brain injury.
Join them on their journey…Donate online today!
---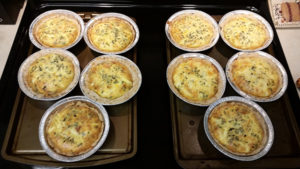 Scarborough Fair Quiche
Ingredients
3 large eggs lightly beaten
1 cup heavy cream
½ cup milk
1/8 teaspoon salt
Pinch freshly ground black pepper
½ cup (2 oz) shredded cheddar cheese
½ cup (2 oz) shredded jack cheese
½ cup (2 oz) shredded parmesan cheese
¼ teaspoon dried parsley
¼ teaspoon dried sage
¼ teaspoon dried thyme
1/8 teaspoon dried rosemary
9-inch pie crust
(When substituting fresh herbs, always triple the amount of dried herbs called for.)
Adjust oven rack to the middle position. Preheat oven to 350°. In a bowl whisk together the eggs, cream, milk, salt and fresh black pepper. Sprinkle ½ of the cheese on the bottom of the pie crust. Sprinkle the herbs over the cheese, and then top with the remaining cheese.
Gently pour in egg mixture. Place quiche on a foil lined baking sheet. Bake for 20 minutes. Rotate the quiche for even browning. Continue baking for another 20-25 minutes, or until the mixture is set and lightly browned. Test by inserting a knife in the center. When the custard has set the knife will come out clean. Set the quiche on a wire rack to cool before cutting.