Schurig Center is thrilled to share that the National Association of Realtors® (NAR) has honored our volunteer Board President Kimberly Strub as a 2019 Good Neighbor finalist.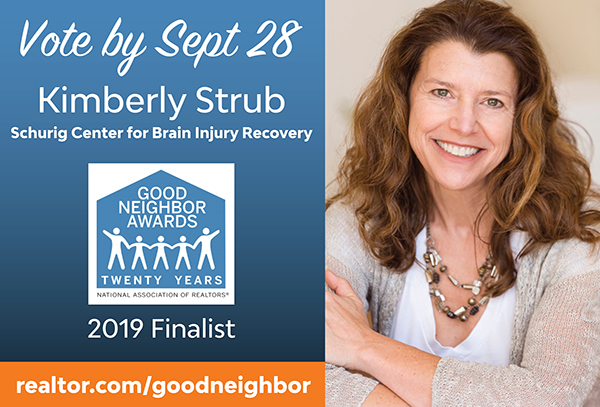 NAR, the nation's largest trade association, uses the Good Neighbor Award to honor Realtors® who have made a positive impact on their communities through extraordinary volunteer service. This year marks the 20th year of the Good Neighbor Awards program. During that time, NAR has awarded $1.3 million in grants to more than 200 nonprofits led by Good Neighbor honorees.
Kim is one of ten Realtors® being honored this year who have donated their time, money and passion to enrich the lives of the people in their communities. On October 2, five winners will be named from among the ten finalists and will receive a $10,000 grant and national media exposure for their nonprofit.
"The Good Neighbor finalists inspire and motivate action for the greater good," said Tracey Fellows, acting CEO of realtor.com, the primary sponsor of the Good Neighbor Awards. "Realtor.com is proud to shine a spotlight on these Realtors®, who truly bring the value of community home."
Vote for Kim Strub by September 28
The public is invited to vote online for their favorite finalist. The top three vote getters will win bonus grants of $2,500, $1,250 and $1,250, respectively, for their nonprofit. Voting is easy, no email opt-in is needed. Just click the box next Kim's photo! You can also vote multiple times. Cast your vote at realtor.com/goodneighbor between August 28 and September 28.
[Read more and VOTE NOW here!]
Congratulations, Kim!