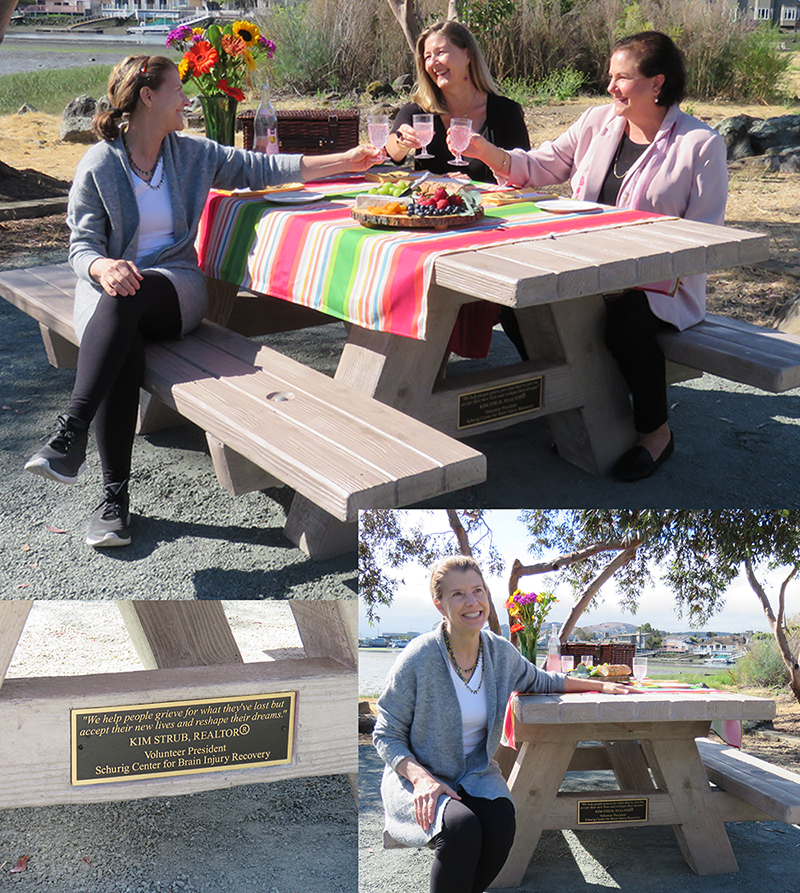 National Association of Realtors® singled out Schurig Center's volunteer Board President Kim Strub as one of their national Good Neighbor Award recipients in 2019 and provided a $20,000 grant for the organization at that time in partnership with Wells Fargo Foundation. They also decided to dedicate a picnic table to her in recognition of her decade-plus of volunteer service to Schurig Center. The NAR Good Neighbor Awards recognize REALTORS who make extraordinary commitments to improving the quality of life in their communities.
The picnic table dedicated to Kim and Schurig Center is located on the walking path along Corte Madera Creek by Bon Air Center in Larkspur. The public is invited to enjoy the table. An inaugural picnic was held at the new picnic table in June 2021. In attendance from the Schurig Center were Executive Director Patricia Gill and Board member and Larkspur city councilmember, Catherine Way.
"I'm thrilled that the work of Schurig Center continues to be recognized for the important role we play in helping individuals and families rehabilitate after traumatic brain injuries. The center looks forward to reopening our doors to in-person classes in the fall, while our remote support continues to be offered," said Strub. "We are hopeful that the picnic table can be enjoyed by the public and brings awareness to the need for the services we provide in our local community."
Since the organization's founding in 1985, Schurig Center's mission has been powered by community support. We are deeply grateful for the loyal support of our community of friends, like Kim, who have been helping us improve lives and abilities for over 35 years.
If you'd like to join us in celebrating Kim's service to the community, we hope you'll consider making a donation to Schurig Center in her honor today.
Congrats, Kim!