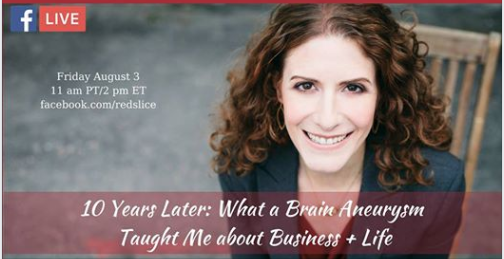 Friday, August 3, 2018
11:00 am PST
To watch, visit: facebook.com/redslice
Did you miss the live video feed? Not to worry!
You can watch the video at your leisure after the August 3 at the link above.
A Facebook account is required to view the video.
Don't miss this special Facebook Live event hosted by Maria Ross, aneurysm survivor, author, speaker, and consultant. Maria will be sharing the 7 lessons she learned in her recovery from an aneurysm and how others can apply them to their own lives and businesses.
"It's been 10 years since a brain aneurysm almost killed me. The recovery was tough, the road was long, but I was extremely blessed: I've adapted, my business have thrived, and my life is good. But I'm still learning every day! Many of you have wondered how the journey has evolved since I wrote Rebooting My Brain in 2012. Come hear the rest of the story, ask questions, share YOUR stories and learn seven lessons that you can apply to have a richer, easier, more fulfilling business + life."
In honor of her 10 year anniversary and Brain Aneurysm Awareness Month, Maria is also donating 25% of net sales of her book "Rebooting My Brain: How a Freak Aneurysm Reframed My Life" to Schurig Center in August and September.
Purchase your copy in print, Kindle or audiobook version here.