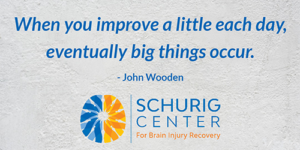 Going home after a long stay in the hospital can be exciting. But it is important to note, recovery may not be complete when inpatient rehabilitation concludes.
You will have learned important strategies during inpatient rehabilitation that will help make the transition from institution to the community safe and successful. It is very important that these techniques be used consistently and reinforced regularly.
And although exciting, leaving the hospital can be challenging for a number of reasons. One of the less obvious reasons is the fact that often a survivor of brain injury feels that he will "be fine once I am home and in my own space." The exact opposite may be the case. In a less familiar, more structured environment (like a hospital), individuals tend to be more attentive and aware of their surroundings. When a therapist or doctor is observing you, you tend to be focused on the approaches and techniques they taught you. The presence of a nurse, physician or therapist provides "cueing" even if nothing is said.
If the situation at home lacks structure and supervision or does not encourage carryover of the strategies taught during inpatient rehabilitation, there may be a slip back in function and possibly even safety issues.
Once an individual gets home after being hospitalized for a long period, the desire to continue therapy may diminish. Encouraging continued rehabilitative efforts may involve some cheerleading, but it is important that the process continue.
Recommended strategies for optimal performance and continued improvement after leaving the hospital:
Staying consistent with compensatory strategies
You or your loved one will have learned a number of compensatory strategies while in rehabilitation that need to be consistently maintained after leaving the hospital. This may include keeping a set schedule from which the survivor does not waiver. He may also need checklists to complete the morning routine or organizers to plan daily activities and schedule appointments. And it's crucial that he avoids situations (typically identified during rehabilitation) that trigger undesirable reactions or behaviors. These can include places that are noisy, bright, crowded, hot or cold—or avoiding complex, unfamiliar or new tasks at times when the brain injured person is tired, hungry, hot or cold.
Rest
Regular rest breaks or naps should be a scheduled part of her day. She won't need excessive sleep, but it's important to make sure she has scheduled downtime every day. Inadequate sleep or rest can lead to undesirable behavior and/or decreased cognitive function.
Nutrition
Eating a healthy, balanced diet, with adequate fluid intake, is crucial to helping the brain-injured person function at maximal level. Ask your doctor about sugar, caffeine and alcohol use.
Exercise
Regular exercise and activity is an important part of every day. Keeping active is not only good for the body, but the mind and brain. The extent and type of the exercise should be cleared by your physician.
Social contacts, especially with brain-injured peers
Being with people is important for everybody. And for the brain injured individual, it's particularly important to connect with others who have been through a similar experience. There are support groups, day treatment programs and adaptive courses—many available through local community colleges—that can provide a brain-injured person a structured way to be with other people.
Preventing a secondary injury
In order to prevent a secondary injury, it is important to monitor the brain-injured person's behavior. She may need to be supervised when engaging in new, unpracticed activities. And, as noted above, she will need to avoid situations that may cause undesired behavior or reactions. She will need to avoid recreational drug and alcohol use.
Accessing answers to questions as they come up
The facility that discharged you home would be the first place to contact when questions arise. If they are unable to answer your questions, ask where they can refer you. This may well be a community based brain injury organization or a state level association. A great deal of general information is available on line.
---
More helpful information…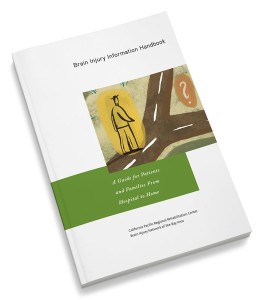 Brain Injury Information Handbook
This article is an excerpt from Schurig Center's Brain Injury Information Handbook – a guide for patients and families from hospital to home. View and download your free copy of the handbook here for more helpful information to help you navigate the journey to recovery after a brain injury, concussion or stroke.
Resource Referral Assistance
You are not alone. We are here to help! Schurig Center is also pleased to offer referral resource assistance to help support you in your recovery process. Get more information about this service and access our online resource directory here.